In the book
Not in a deadly serious way, Through Alien Eyes gives a scoop on:
Who eats cow's hooves and jellyfish, and more on "whiskered food"
What healthy food and sex have in common, and who said "We have no sex here"
Who is a mommy of a son of a bitch
Why democracy isn't applicable to symphony and ballet, and what lip gloss advertises, actually (pigs are involved, too)
How to talk without telling and be handsomely paid for it (the CIA lesson)
How to get in (and out) a high-security facility using "Erin Brockovich Principle"
How to save on shrinks (and even laugh)
How a Martian meets an Alien: foreign brides, marriage agencies, immigration services, loves, lies, and crimes
And this is not even the tip of the iceberg - there is much more to explore.
Now, if to get serious for a moment: "We knew that everything the communists told us about communism was a lie," one Russian joked, "but we didn't realize that what they told us abut capitalism was true."
How much difference is there between "Soviet propaganda" and American "spin," really?
For an American newcomer, there always will be a question what to accept and what to leave out creating a fusion of Eastern and Western qualities - adaptation to the new life demands not just moral courage but sometimes profound compromises, which might become an ultimate road to success.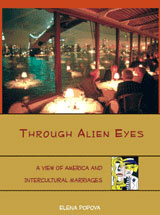 Available online from

Format: Soft Cover,
280 pages
Price: USD 22.95
ISBN: 978-0875866390 (0875866395)
Format: Hard Cover,
280 pages
Price: USD 32.95
ISBN: 978-0875866406 (0875866409)
Format: Ebook
Price: USD 13.77
ISBN: 978-0875866413